I realize that I've neglected this mod and the work on it for too long, partly due to health and other random things that come up in life (such is life, I guess lol), but I've nevertheless have neglected it. This project started back in April of 2014, yet it still hasn't been released yet... that really needs to change, I think.
So here's the bottom line - I will
try
to finish this mod up by the end of the year, or at the very least have it finished sometime in January. I make no promises and no guarantees, just that I will try hard to have this finished by that time. (which also means I will also have to put some other content mods I have planned on hold)
As for new stuff:
- am still researching into adding new intel assets to the game, so I can create a new intel for players who completed the ME1 Pinnacle Station DLC and earned Shepard's apartment from Ahern. If successful, this new intel would be available from the Spectre terminal on the Citadel as an "approval request".
- the research into adding additional Collector SMG and Sniper weapons from Mp into the SP game.... has been a major bust, lol
As Kinkojiro has mentioned in the past, the Collector Sniper and SMG require assets from files in the Retaliation MP DLC, which I really don't wanna f*** around with (and honestly don't have the time to f*** around with it anyway, lol), so for now only the Collector AR will be available in MEWAM via the previously existing Joker email/Spectre terminal access.
- the upgrade for Gillian's war asset is in place and working (again, this is only if the player saved David Archer in the ME2 Overlord DLC and saved the Grissom Academy students in ME3).
- I'm replacing the final email from Bailey regarding the Reapers attack on the Citadel, and instead will have the Asari Councillor send the email (either Tevos or Irissa, depending on the Council choice in ME1). In addition to talking about the Reapers attack and the evacuation of the Citadel, the Asari Councilor will also briefly (and vaguely) mention the ARKCON project, which should hopefully serve as a lead-in to the story of Mass Effect: Andromeda.
- this is the current image for a new war asset for completing the Omega DLC, the Patriarch (only if Shepard kept Patriarch alive via the Paragon option in ME2):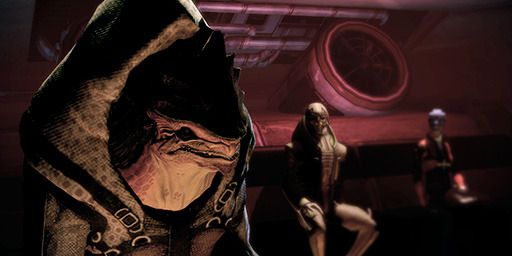 - and a WIP image (not 100% satisfied with the visuals yet) for a special Ilos-based war asset that will be exclusive to both MEWAM and MapMod: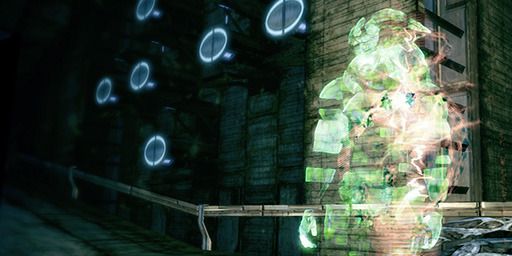 Regarding Shepard's background and new war assets
I honestly don't planned on adding any new content for Spacer Shepards - they already get a fair bit of content in both the vanilla game and the Citadel DLC, so I don't see any additional need for a war asset based on Hannah Shepard or anything. Introducing assets for colonist Shepards are also really tricky and currently I have no additional content for them - I can always try to add Talitha to the gam, but honestly I have no clue what role she would or could even play (especially considering the email she sends Shepard in ME2 makes it sounds like she still has a long way to go in her recovery, even after 2-3 years). Earthborn Shepards are getting the previously mentioned Tenth Street Reds content, which has both benefits and consequences for accepting the Reds as allies/war assets (fitting for Renegade playthroughs, considering that Earthborn-backgrounds skew towards Renegade paths).
sansuni wrote:There are a few possible war assets from ME1 if you did the UNC missions, like:

"Lieutenant Marie Durand" if you did the listening post missions.
"Corporal Toombs" if you didn't kill him ME1 and rejected Cerberus at the end of ME2. (He should even send you a mail to apologize.)
"Martin Burns" if you saved his life in ME1, or rather he could send you a mail and give you new generation of human biotics.
1. ... No
Have already talked about this in a previous thread I believe, but if an NPC makes such a non-presence to me in a playthrough, then that NPC is not worth bringing back for such a random cameo message/war asset
2. Toombs is already a part of MEWAM
3. Martin Burns already has a role in MEWAM.